I Can Personally Vouch For This Being A Good Topper
Soft On One Side, Firm On The Other
Perfect Height Of 5cm
Quality Cover With Sturdy Zip
Cover Is Machine Washable
Buy At A Great Price Or Get As Part Of A Massive Emma Mattress Discount Bundle
Emma Mattress Topper NZ – straight up, it's not my favourite topper in NZ, but you'll pay hundreds more for that one. Instead, the Emma topper gives you a great blend of affordable price, two firmness options, and a lovely cover. Overall, it's a good deal and a good topper, and having tried it out personally myself I'm happy to recommend it to you as a fantastic mid-range price mattress topper to change the feel of your bed, whether you want firmer OR softer.
In this article, I'll take you through:
Emma Mattress Topper Unboxing And Close-up (Video)
Emma Mattress Topper Features
My Opinion Of This Topper
Other People's Opinion Of This Topper
Emma Mattress Topper Pros And Cons
Emma Mattress Topper FAQ
Summary
Emma Mattress Topper Unboxing (Video)
In this short video I take the Emma Topper out of its box. Watch it unfurl to fit the mattress, and get an idea of the feel of the foams on both sides of the topper. And get a close up look at the cover!
Emma Mattress Topper Features
Emma has a bigger international following than the other brands, and frequently win awards around the internet for their accessibly priced mattresses and bed products. Thye've been growing their customer base in New Zealand, and they're one of the most popular online brands NZ has. I've been working with Emma for a while now (my 4 year old sleeps very happily on one of their mattresses and has done for almost 2 years, I have the new comfort mattress and it's amazing).
Breathable stretch knit cover with a sturdy zip that makes it easy to remove the cover for washing
5cm total height: you get 2.5cm of soft foam on one side and 2.5cm of firm foam on the other so you can flip the topper over to suit your preferences
Free shipping, usually 2-5 days
Price range: with Emma's deep discounts, you won't ever pay more than $400 for a king size
In my opinion, these features are all pretty great. Let me talk you through why:
A washable cover is important because you won't be putting a mattress protector on top of a cover. This means easy cleaning for your mattress topper is essential.
5cm is the perfect mattress topper height. To me, any thinner and you may as well not bother. Any thicker and you may as well just get a whole new mattress instead. 5cm is just the right amount to change the feel of your current mattress for the better.
Free shipping is a big deal if you're comparing this topper to shops like Harvey Norman or other bricks and mortar retailers, who can charge QUITE a lot for shipping.
My Opinion
If you've read this far, you know I think it's pretty good.
The soft side of the topper feels genuinely soft to lie on, and the firm side feels genuinely firm so I think you're getting what's described when you buy this topper.
Like I said, it's a good height and has a good cover, so overall there's a lot to like about this mattress topper, especially given its price and the discount deals Emma often runs.
One thing though, I wouldn't recommend this topper if you're someone who gets really hot when they sleep. I DID find this topper, being memory foam, felt a bit hot under my body. If you want a topper that does NOT trap heat, you'll have to pay a bit more and invest in a latex topper instead.
Opinions From Other Customers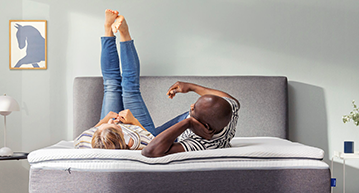 When you're researching buying something online, you don't just want to take one person's word for it, especially with something that can feel different to everyone, like a mattress topper.
Reading through the reviews, you'll immediately see that most people are really happy with their Emma mattress topper, and it has an average rating of 4.7 out of 5 from nearly 300 reviews (at the time of writing this article).
The topper gives that bit of extra comfort I was looking for
With a topper being an unknown quantity, buying one with a soft and a firm side seemed the way to go. We are very satisfied with our purchase
This topper is comfortable and supportive. It's good value for money
I bought this topper after reading other reviews about how it could help soften a mattress. I'm a side sleeper and was getting aching hips, this topper has softened my mattress up enough to reduce my aches at least 50%! Great topper
Adds a bit of softness without interfering with the firm support from my mattress
So, you can see, that a lot of people find the topper does exactly what they want it to. I WILL say that it seems there are more people purchasing this topper to add a soft feel to their bed, rather than a firm feel.
Emma Mattress Topper NZ – Pros & Cons
Pros
Dual Firmness: Choose Soft Or Firm By Flipping It Over
Foam Feels Like High Quality
Cover Is Washable
Excellent Price With Discounts And Bundle Deals Often Available
10 Year Warranty
Cons
No In Home Sleep Trial
May Trap Heat, Not My Top Choice For Hot Sleepers (You'll Need Peacelily Instead)
Emma Mattress Topper NZ – FAQ
Do You Need A Topper On An Emma Mattress?
No, you don't NEED one. My personal opinion is that the Emma Comfort mattress is a very comfortable medium firm which will suit most, and the Emma Diamond is a bit more contouring and soft if you want a softer mattress. But if you want to change up the feel a bit, whether that be a bit softer or a bit firmer, the Emma mattress topper will do the job.
What Kind Of Mattress Topper Is The Most Comfortable?
This depends on you. Memory foam is great for adding softness and contouring, latex is going to be the most cooling. I like a dual firmness topper like the Emma mattress topper because it allows you to experiment with a firm topper and a soft topper all in one item.
Is Emma Worth The Money?
It's a big yes from me. I think Emma is one of the best value mattress brands on the market, in any country.
Summary
Overall, this is a great value topper that does exactly what it says.
I wouldn't recommend it if you really get hot at night, but if you're after a quality topper with two firmness options, it's very hard to look past the Emma mattress topper.
Don't forget Emma often run huge sales and offer great bundle deals, so it's one of the best value mattress toppers on the NZ market.