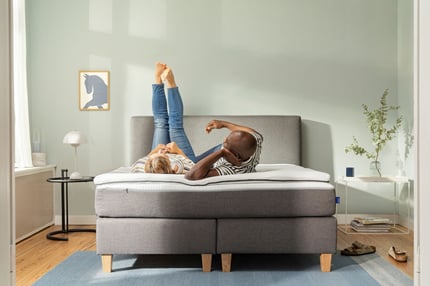 Best mattress topper NZ – this was a tough one because there are a lot of options out there, including some extremely cheap toppers and some that cost almost the price of just replacing your mattress.
Yes, it's true that the three best toppers are more expensive, but they're also going to give you years and years of amazing comfort so in the long run they're a worthy investment (as long as a mattress topper is truly what you need). They're all from brands I happily use products from in my own house, so I have personally experienced the high quality you'd expect from a recommendation as best on the market.
My top three picks for the best mattress topper in NZ are:
TOP RECOMMENDATION: Peacelily Natural Latex Topper, because it's amazingly high quality materials and is the only mattress topper that comes with an in home sleep trial.
BEST MEMORY FOAM: Napp Gel Memory Foam Topper, because it's the only memory foam option made in New Zealand and from what I know of Napp vs other memory foam toppers out there, their materials outclass everyone.
BEST DUAL FIRMNESS AND BEST SOFT: Emma Memory Foam Topper, the only topper with a firm side and a soft side. I've tried it out, and both sides feel really different, so this is a great choice if you can't make up your mind. It's also the cheapest of these three. It's also going to add the most softness.
I've also included a market overview to show you the other options out there, and a buyer's guide/FAQ. These will help you understand whether investing in a good quality mattress topper is actually right for you, or if you need to change something else about your bed to get that comfort you're seeking.
The Best Mattress Topper In NZ Is: Peace Lily Natural Latex Mattress Topper
5 Reasons Why It's The Best Mattress Topper In New Zealand:
You get free shipping, a 100 night sleep trial (in fact, it's the only topper I found with that), and a 10 year warranty (because latex is highly durable, you can expect your Peace Lily mattress topper to last longer than any other)
All natural materials (including an organic cotton cover) including some of the highest quality natural latex you'll find anywhere
Hand crafted (again, I believe Peace Lily is the only brand who can offer you this)
Will offer the right balance of comfort and support (it's a great option if you're finding your mattress too firm)
Hands down the best value latex topper you will find in New Zealand (you can read a latex topper overview here if you want to see the other options)
Peace Lily is an online only retailer specialising in high quality natural latex mattresses, toppers, and pillows. They have a strong base of very happy customers both here in NZ and also in Australia, where latex is a very popular bedding material for their hotter climates.
Because Peace Lily sells their products exclusively online, you make some big savings when you buy their products. They don't run regular sales like some other brands, because they work hard to give you the best value every day and they're certainly the best latex topper as well as being the best overall, and are much cheaper than other latex options despite being such high quality.
Peace Lily Mattress Topper Features
Organic cotton cover (GOTS certified)
5cm natural latex core (plush feel or firm, Peace Lily is one of the very few brands offering a firm mattress topper) – Peace Lily sources their latex from Sri Lanka, which is known for producing the best quality latex in the world.
Overall height of 6cm
Free shipping, usually dispatches in 1-2 days
100 Night sleep trial (if you don't like it, you'll get a refund within that time, no hidden fees), meaning you can try this topper in the comfort of your own home without any obligation to keep it if it doesn't fit your expectations
10 Year warranty (this is LOOONG in the mattress topper space, where 3 -5 years is more the norm)
Price range: $409 – $759
Reviews From Real Customers
At the time of researching this article, the Peace Lily mattress topper had a star rating of 5 out of 5: you can't get a better endorsement than that. Here's what customers have to say:
"This topper is the best thing I have bought in years, so comfortable, does not cause night sweats like memory foam (ugh!) and it keeps my body at a normal, comfortable temperature conducive to a great night's sleep. Another great thing is I am pretty sure I won't need an uncomfortable electric blanket over winter just my good old faithful hot water bottle to initially warm the bed. THANK YOU PEACE LILY"
"We love our mattress topper. We've got it on top of our older mattress and it's made it so comfortable. We've both noticed our back and neck muscles are not sore anymore and we sleep well. It's fantastic! And customer service and communication was great as well. Highly recommend Peace Lily."
"The Peace Lily mattress toppers are amazing. We purchased a brand named mattress several years ago for over $2 000, however my wife and I found it to be very firm and we were waking with sore hips and dead arms. We tried a memory foam topper but found it very hot and you seemed to be swallowed by it. After much research we decided to try a Peace Lily latex topper, although I was slightly dubious it would be any better than memory foam. It has turned out to be an excellent decision and we couldn't be happier. We both seem to be sleeping cooler and no longer wake up sore. It's like sleeping on a soft, yet supportive, cloud. I highly recommend these toppers."
Best Memory Foam: Napp Memory Foam Mattress Topper
Why It's The Best Memory Foam Mattress Topper In New Zealand:
You're supporting local jobs by buying New Zealand made (I believe it's your only NZ made memory foam topper option, please let me know if I've got this wrong)
Napp uses great quality foams so you can expect good durability from this topper
The cover is high quality, and does a good job of helping keep you cool
Excellent balance of comfort and support, along with the contouring you expect from memory foam (but without that "sinking in the mud" feel you can get from more traditional memory foams that don't have the clever formulation of the Napp memory foam)
If you crave the targeted contouring that only memory foam can provide, a Napp mattress topper is far and away your best option. Made from high quality materials that have been engineered to help you stay cool unlike a traditional memory foam, this topper works hard to keep you comfortable all night.
Napp pride themselves on being a family owned company who make their products right here in New Zealand. They also pride themselves on their service, and rightfully so: I've experienced their fast and knowledgeable service myself, and have even had readers email me specifically to tell me about how good their shopping experience with Napp was. They're a great kiwi brand to support.
Napp Mattress Topper Features
Breathable stretch knit cover (this is a premium knit, and very similar to what you'll find on the cover of a Napp mattress)
5cm gel infused memory foam core (medium plush feel) – this is the same foam you'll find inside the comfort layers of a Napp mattress. It's high enough density to be durable, soft enough to feel just right, and responsive enough to contour your pressure points without you sinking in. The gel infusion is small gel beads, which draw heat away from your body and out of your bed, so this topper works harder than a traditional memory foam to keep you cool.
Overall height of 6cm
Free shipping, with 48 hour delivery to Auckland, 2-5 days rest of NZ
Price range: $330 -$620
Reviews From Real Customers
This is actually a pretty new product for Napp, so unfortunately at the time of writing this topper had no reviews to share with you. However, it IS made using many of the same materials as their mattress, which also has an unbeatable 5 out of 5 star rating, with pretty much everyone finding it extremely comfortable and high quality.
I have a Napp mattress in my house (as do several other people I know) and can personally vouch for the comfort and quality of Napp products, so I predict that as reviews for this mattress topper start to come in, they're all going to echo those thoughts.
Best Dual Firmness Mattress Topper NZ – Emma Mattress Topper
Why This Is A Great Mattress Topper
It's the only dual firmness topper I could find.
I've tested it out, and the soft side is genuinely squishy and soft while the firm side is resilient and has a lot less give.
Emma regularly run deep discount sales, so you'll definitely pick this topper up for a great price (or score even bigger discounts when you buy Emma bundles)
The cover is a really nice fabric with a sturdy zip: it's super easy to remove for washing if you need to
Emma has a bigger international following than the other brands, and frequently win awards around the internet for their accessibly priced mattresses and bed products including an adjustable firmness pillow. I've been working with Emma for a while now (my 4 year old sleeps very happily on one of their mattresses and has done for almost 2 years, I have the new comfort mattress and it's amazing).
Emma Mattress Topper Features
Breathable stretch knit cover with a sturdy zip that makes it easy to remove the cover for washing
5cm total height: you get 2.5cm of soft foam on one side and 2.5cm of firm foam on the other so you can flip the topper over to suit your preferences
Free shipping, usually 2-5 days
Price range: with Emma's deep discounts, you won't ever pay more than $400 for a king size
Overview Of The Other Mattress Topper Options
Ecosa
Ecosa is an Australian owned brand that is probably the best known online mattress brand in NZ. Known for their firm memory foam mattress, they also offer a topper. It's quite similar to Napp:
Gel Memory Foam
5cm Height
Designed to give your mattress a plush feel
Removable cover with elastic grips to hold it in place
No sleep trial, but free shipping
Prices $380 – $600
This topper has ONE advantage over Napp, in that the gel infused memory foam also has ventilation holes throughout the topper so it works even harder for cooling. However, it's not made in New Zealand and I think Napp has the better cover. Ecosa also run more deals than Peacelily or Napp so it may end up being a slightly cheaper option for you.
What You'll Find In Stores
You'll find a very broad range of toppers at our big brand home stores. There's everything from thin mattress pad type toppers for under $100 to "premium" memory foam toppers for almost $1000 (which I don't think are nearly as good value as Peacelily, Napp, or even Ecosa). Let's take a look at what you can expect in store:
Briscoes
Arguably New Zealand's best known home store, and you know you'll always get something on sale! Here's a quick look at what Briscoes has (note most of these won't provide as much support as the toppers above)
Galaxy Comfort Zone Memory Topper: a 4m high memory foam topper with an egg crate design and no cover. It doesn't have any gel infusion either, but it does come in at a budget friendly $89 – $139.99
Cloud 9 Microfibre Topper: Filled with stuffing like a soft toy, in a cotton cover. This is definitely more of a mattress pad, but will add a touch of softness to your bed for $179.99 -$249.99
Briscoes also offer mattress toppers with similar looking construction to Ecosa and Napp, but you can expect to pay more than $800 for a Queen or King size of these, and I don't think they'll be the same quality for the money. Napp would definitely be my choice over a "premium" Briscoes topper.
Bed Bath & Beyond
If a wool or down mattress pad is what you're after, I think Bed Bath & Beyond offer the best range of all the big retailers.
MyLuxe Goose Down + Feather Topper: Goose down and feathers encased in a cotton cover. This is a higher loft than the microfiber topper from Briscoes so it's going to be thicker than that one. Prices are $214.90 – $254.90 on sale.
Bambou Mattress Topper: Memory foam and polyfill encased in a bamboo cover. This one is probably the cheapest option containing memory foam, but the foam layer inside is thin. Prices are $99.90 -$169.90 on sale
Woolrest Wool Underlay: As the name suggests, this one isn't actually a topper. It's going to provide a cosy warmth in winter and a very thin layer of softness. Made from NZ wool with a cotton backing. Prices are 119.90 -$214.90 on sale.
Harvey Norman
When I researched this article Harvey Norman only had one mattress topper on their site, from a brand you may know from infomercials: Bambillo.
The Bambillo mattress topper is a very nice topper: it's 7cm high and contains gel memory foam inside a bamboo cover but it only has a one year warranty and the prices top out at more than $900. I think it will do a good job but I don't think you need to spend that much money when you could buy Napp or Peacelily, or Emma, which are equal or superior quality for a lower price.
I've also seen other mattress toppers in Harvey Norman when I've physically gone to the store, but from memory these were also expensive memory foam toppers that did not offer as good value as Peacelily or Napp.
Best Mattress Topper NZ – Buyers Guide/FAQ
Detailed Overview Of NZ's Best Mattress Toppers
If you're unsure of the difference between memory foam and latex (the materials my top two are made from) here's a quick guide before I take you through the recommendations:
Latex is naturally temperature regulating, durable, and has a bouncier feel. It relieves your pressure points without the contouring of memory foam, which people tend to love or hate. Because it's probably the absolute best of what you can expect from a mattress topper, it does cost a little more.
Memory foam offers more contouring but modern memory foams don't have the "stuck in the mud" feel of 10 years ago. Memory foam is not as naturally breathable as latex, but the foams are now formulated to have temperature regulating properties.
I've answered some common questions about mattress toppers to help you understand if a mattress topper is the right option for you, and what to look for when you're buying one. My top two recommended mattress toppers in NZ meet all the criteria in the questions below, so if you choose one of them you can just relax and enjoy your new topper.
It's also good to keep in mind that mattress toppers are (generally) best used to add softness/plushness or extra cushioning to your current mattress. If you're looking for a mattress topper to make your bed feel firmer there actually aren't many good options for firm toppers because needing to firm your bed up is usually an indicator you need a new base or mattress instead.
What Is The Best Depth For A Mattress Topper?
5 – 7cm is about right, as this is the depth required to actually change the feel of your mattress. Any thinner and you may as well buy a mattress pad, any thicker and you may as well just get a whole new mattress instead.
Is A Mattress Topper Worth It?
This depends on your situation.
The answer is yes if:
– you have a mattress that still has years of use left but you'd like to change the feel of it
– you've checked that any mattress sagging isn't actually being caused by a bed base with inadequate support
The answer is no if:
– your mattress is old and needs replacing (a mattress topper will only be a temporary fix)
– your bed base isn't supporting your mattress (everything will sag if this is the case)
– you just want to add a little touch of softness (you'll probably be fine with a cheaper mattress pad instead)
Which Type Of Mattress Topper Is Best?
– Latex is great if you feel like your mattress is hot, or you want something with a bit of bounce alongside the extra comfort.
– Memory foam is great if you want more body contouring.
– If you want something that's going to add warmth to your bed for the colder winter months as well as soft cushioning, you may want to investigate a wool or down topper instead.
How Do I Choose A Mattress Topper?
1. Determine whether a mattress topper is actually what you need
2. Decide if you would prefer latex or memory foam (my personal preference is latex because it's all natural, the most durable, and the most breathable)
3. Look for a topper that's 5 – 7cm thick
4. Look for high quality materials and good customer service
5. If buying online, check for excellent customer service (are they responsive to customer problems, do they have free shipping, what do real customer reviews say about it) – I've done all this for you for my top two picks
6. Buy your new topper
What's The Difference Between A Mattress Topper And A Mattress Pad?
A mattress pad will be thinner than 5cm, and will provide a layer of softness without as much support or contouring as memory foam or latex. You'll see many "wool mattress toppers" or "down mattress toppers". I think that these are more mattress pads than toppers as the reason you use them is a bit different. Yes a wool or down pad will provide softness, but it won't do much to actually change the total feel of the mattress, which is what you'd use a mattress topper for.
I just wanted to point this out because the function is a bit different, but they are often all named the same. Understanding this difference can help you decide between that $100 "pad" or investing a bit more in a good quality topper.
Best Overall:
Peacelily Natural Latex Topper
All Natural Materials
Only One With Sleep Trial And 10 Year Warranty
Choose Luxury Plush Or Firm
Best Value Latex Topper Available
Close Runner Up:
Napp Gel Memory Foam Topper
Made In New Zealand
High Quality Gel Memory Foam
Medium Feel
Best Memory Foam Topper In NZ
Best Dual Firmness:
Emma Memory Foam Topper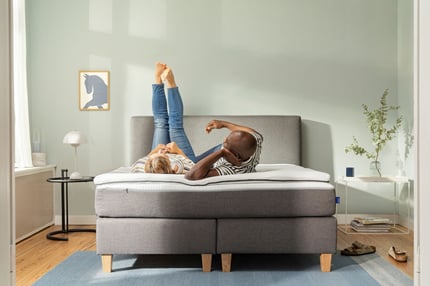 Breathable, Easy Wash Cover
Flip Firmness Topper: Firm On One Side, Soft On The Other
Get Amazing Emma Bundle Discount Deals
Lowest Price Of My Top 3