Image
Product
Features
Price

Top Pick

Winkl Memory Foam Pillow

My Own Personal Pillow For 2 Years And Counting

Soft & Bouncy Feel

Retains Shape All Night, Won't Go Flat

Great For Side Sleepers

120 Night Sleep Trial - Try It Risk Free At Home

Get Discount Here

Customizable

Emma Memory Foam Pillow

I'd Use This Pillow If Winkl Didn't Exist

3 Internal Foam Layers, Each With A Different Firmness

Change The Layers Around To Change The Feel Of The Pillow

Remove A Layer To Change The Height

Get Big Sale Discounts



Get Discount Here
Memory Foam Pillow NZ – I changed to a memory foam pillow 2 years ago and have not looked back. I love how it retains its shape, the way it supports my head and neck, and the soft feel without going flat during the night (I'm looking at you, down pillows).
Mine's a Winkl (read on to find out why I've stuck with it over the other options), which has a bouncy feel. If you're after more of a contouring feel, or if you want one you can adjust to fit your exact preferences after it arrives, I've got something for everyone in this comprehensive overview of memory foam pillows available in NZ.
I've got you covered from a $20 pillow I bought from Briscoes (on sale of course) right through to Tempur, the world famous name synonymous with luxury memory foam bedding.
Here's all the pillows I'll cover:
Winkl (my favourite, my personal pillow)
Emma (the one I'd use if Winkl didn't exist)
Ecosa (the biggest name in online bedding)
Tempur (the most dense pillow of all in this article)
Galaxy (this is my $20 Briscoes find)
Memory Foam Pillow NZ – Your Options Explained
Don't be put off by the prices, online bedding brands are always having a sale. My links take you to the best discount available on any day of the year.
| Brand | Feel | Avg. User Rating | Price | Buy |
| --- | --- | --- | --- | --- |
| Winkl | Soft and bouncy, holds its shape. Supports without sinking | 4.8 out of 5 | $175 Before Discounts | Get Discounts Here |
| Emma | Amazing. 3 Internal foam layers allow you to adjust the height and feel | 4.3 out of 5 | $239.99 Before Discounts (Emma usually offer the biggest savings) | Get Discounts Here |
| Ecosa | A "hi-lo" pillow, perfect for those who want adjustable height | 5 out of 5 | $180 Before Discounts | Get Discounts Here |
| Tempur | Firm, dense, contouring | 4.7 out of 5 | $359 | Check For Discounts At Harvey Norman |
| Galaxy | Surprisingly similar to Tempur, just a bit thinner | 3.8 out of 5 | $119 (I bought it for $20 a year ago though!!) | Check For Discounts At Briscoes |
Top Choice: Winkl Pillow
The Winkl pillow has one thick foam layer inside, and it's the same lovely comfort foam you find in the top layer of Winkl's ultra comfy mattresses. This pillow has a bouncy feel and it's just super comfortable. I've recommended it to several friends and family members, and they love it too!
One more awesome thing: the Winkl pillow has a 120 night sleep trial so you can try it out for yourself, totally risk free, in your own home.
Inner: Winkl's signature Winkl Flex Foam. This foam has been engineered for softness but with support, and a bouncy responsive feel.
Outer: The case is a beautiful, thick plush cover, and is the same premium fabric you find covering Winkl's high-end mattress, the Winkl Lux. The cover is removable and machine washable, with a high quality zip.
Size: The Winkl Pillow measures 38cm x 70 cm. The height of the pillow is not given, but I measure mine at around 13 cm, which is comfortable for me. I believe it's the tallest pillow in this article.
Certifications: CertiPUR-US and OEKO-TEX certified, for peace of mind your pillow made from safe materials.
Warranty: 3 years
My personal experience: I've been using this pillow for two years now, and it's still going strong. It's generally recommended you replace pillows after 2-3 years, but the sturdiness of the foam and the thick, easy to clean cover make me wonder if I'll actually keep it longer!
For me, this pillow is just the right height, and I love how it has more of a bouncy feel than a sinking contouring feel. It's supportive yet soft, and holds its shape all night. I have a real pet peeve about pillows that go flat in the night, the Winkl pillow is definitely not one of those!
Best Adjustable Pillow: Emma Pillow
With three foam layers inside and a sturdy cover, this has got to be the most easily customisable pillow I've ever come across. The Emma pillow is made for you to play around with the internal foams so you can change the firmness, and you can even remove a layer (or two) to change the height. After all, there's nothing worse than a pillow that's the wrong height!
Size: 40 x 70 cm. I believe this is a standard pillow size. It fits all my pillowcases just fine.
Cover: 98% polyester, 2% elastane. The cover feels lovely and thick, yet it's breathable too. It's got a sturdy zip around one end of the pillow that makes it easy to remove for washing.
Weight: 1.3 kg. This may sound heavy, but it's because of the high quality foams inside.
Total thickness: 12cm. Adjust this down if you need to by removing some layers.
See the blue in the top layer? That's infused with gel particles to help draw heat away and keep you cool.
My personal experience: I found the Emma pillow extremely comfortable and nearly swapped out my Winkl for it! My personal preference when using the Emma pillow is to have the soft side facing up. I like a reasonably high pillow so I kept all three layers in it.
I do not find this pillow traps heat at all and would be happy to recommend it to anyone.
Hi-Lo Pillow: Ecosa Pillow
Ecosa is probably the most famous name in online bedding, thanks to their popular mattress. This memory foam pillow is one of a range of bedding accessories Ecosa offer in New Zealand, and it's the only one in this article with a high side and a low side. I know some of you will really like the idea of this so I couldn't leave it out.
While I'm not a huge fan of Ecosa products myself (I just don't find them comfortable, we had their mattress and it was too firm), they DO make great quality products and this pillow comes with a 100 night sleep trial so if you like the idea of this shape you won't risk anything by buying it and trying it out.
Size: 38cm x 56 cm. This pillow is shorter than others in this article, and you may find your pillowcases flapping around a bit at the edges with extra fabric!
Another pillow with a zip cover for easy washing.
The Ecosa pillow has a 3D layer inside to help with airflow.
The pillow comes with a 2cm memory foam pad and a 3cm memory foam pad, which you can place under the pillow to adjust the height if you wish.
Cool feature: comes with a vacuum seal bag so you can pack it down small and take it travelling (your own pillow can be a game changer for better sleep in unfamiliar beds)
My personal experience: this pillow is actually the only on in this memory foam pillow NZ article I haven't seen or tried in real life. However, I have tried other pillows the same shape as this one, and found the high side was too high, the low side was too low. Ecosa do now offer extra pads with their pillow to combat this, but they sit under the pillow. I think the Emma pillow is a better buy where you can adjust everything internally AND change the softness.
Highest Density Foam: Tempur Pillow
My husband bought this Tempur pillow from Harvey Norman because he had FOMO about my Winkl pillow, but wanted to try something different. Tempur is probably the most renowned name in memory foam bedding worldwide, and were the first to use it.
Tempur products tend to have very high density (read: durable, good quality) foams and have a high price tag to match.
Size: 43 x 63 cm, it's one of the bigger pillows by area of this article.
Like all the others, it has a height of around 12 cm.
The cover is removable for washing, and has a bit of a softer feel than the others (this doesn't matter a lot though because you still need to use a pillowcase)
The inner foam is Tempur's famous Tempur Feel foam, which is what gets this pillow its high price tag.
If you really really want that slow, heavy, sink in the mud memory foam feel, this pillow is your best option for that experience.
My personal experience: this pillow feels HEAVY! You can tell that it's a really dense, durable foam inside, which is how the high price comes about. Keeping in mind that a pillow only has a life of around 3 years, I don't think you need to fork out $300+ for a pillow, the Emma or even the Galaxy below would do the job and offer good support for a better price.
That said, the husband is happy with his Tempur pillow, and wouldn't have anything else!
Lowest Price (If You Catch A Sale): Galaxy Pillow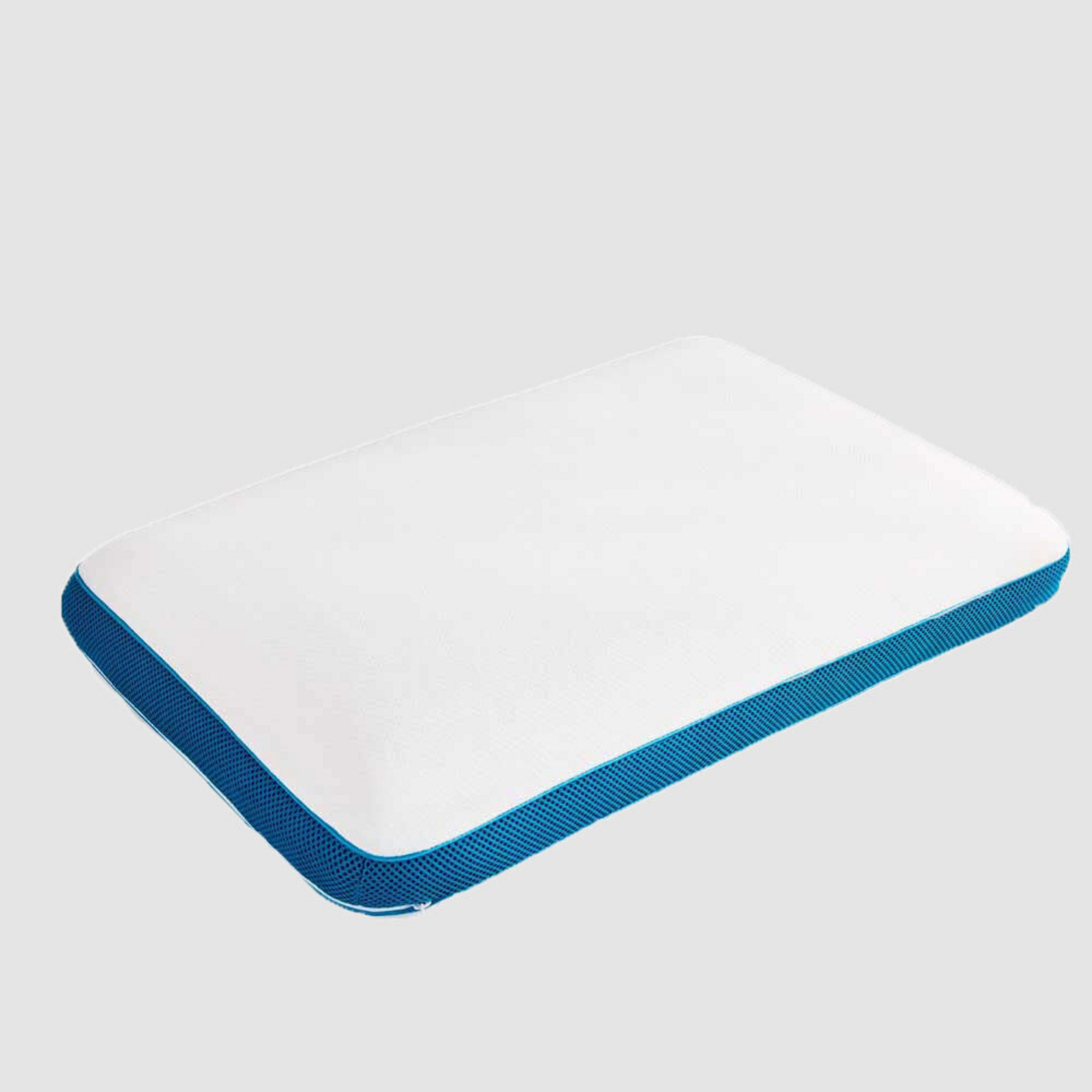 I bought this pillow purely for research purposes, to see if a memory foam pillow nabbed in a big sale could perform as well as some more expensive ones. I was pleasantly surprised, but the regular price has now gone up to about the same as the brands above (when they're on sale).
Size: 40 x 60 cm, so it's a bit shorter than some of the other pillows in this article.
Cover: 100% polyester, feels like it will wash well, but is not as thick as the cover on my top choice, Winkl.
It's got a nice blue trim around the cover, which is easy to remove with a zip for washing.
Total thickness: 12cm, which we have seen to be pretty standard. No options for customizing the height here.
My personal experience: I must have caught a great sale that day because this pillow is definitely NOT $20 most of the time. I was surprised by how much this pillow feels like the Tempur to lie on: the foam behaved the same way, the height was about the same.
The Tempur pillow is a LOT heavier than this Galaxy pillow though, so if you're wanting something with this feel but the most durable foam, Tempur would be the way to go.
Memory Foam Pillow NZ FAQ
Are Memory Foam Pillows Any Good?
Yes. According to WebMD, memory foam helps support the bones in your neck, to keep your spine aligned and comfortable.
If you get very hot while you sleep, you may want to consider a more breathable pillow material, such as natural latex.
Which Is The Best Memory Foam Pillow?
I think the best memory foam pillow in NZ is Winkl, because I've been sleeping comfortably on it for 2 years.
A close runner-up is Emma, with its adjustable foam layers and cooling materials.
What Pillow Do Chiropractors Recommend?
Chiropractors are generally happy to recommend memory foam pillows because they will support your spine through the night without flattening.
How Thick Should A Memory Foam Pillow Be?
The general thickness of around 12cm should work for most people.
If you are mainly a side sleeper you'll find a pillow on the higher side more comfortable (this is probably why I like my Winkl).
If you're a back sleeper you may find one on the lower side like the adjustable Emma is better for you.
Winkl Memory Foam Pillow
Top Pick
My Own Personal Pillow For 2 Years And Counting

Soft & Bouncy Feel

Retains Shape All Night, Won't Go Flat

Great For Side Sleepers