Best Adjustable
Peace Lily Adjustable Base
Articulates At Head And Feet

Adjustable Leg Height To Suit Your Mattress/Preference

Easy To Use Presets

Zero Gravity Position Option

Under Bed Lighting

Massage Features

Covered In Breathable Fabric And Peace Lily's Famous Latex
Best Wooden
Winkl Base
120 Night Sleep Trial

Breathable For Your Memory Foam Mattress

Sleek, Low Profile Minimal Design

Grows With You: Simply Add Another Panel To Switch From Single To Queen/King

Durable, High Quality Materials

Headboard Designed To Make It Easy To Sit In Bed
Best Fabric
Emma Base
120 Night Sleep Trial

Beautiful Grey Tones To Suit Any Colour Scheme

Soft Fabric Build Means No More Bruised Legs If You Get Out Of Bed In The Night

Slats Are Much More Durable Than Those That Come With Cheaper Slat Bases

Take Advantage Of Emma's Awesome Bundle Deals

Available In Full Size Range: Single - Super King
Best Bed Bases NZ: I've got you covered with a range of options that are high quality, stylish, AND have free delivery. You can see my top three above, all of which I have either seen in real life or tested (I use a Peacelily adjustable base for my own bed, a good friend has a Winkl base on my recommendation, and the Emma base is on my spare bed and is proving a very durable slat option for my children who like to jump on it)
As well as my top three, I'll take you through all your other options too, so you've got the full picture of the bed bases you can buy online in New Zealand:
Winkl Wooden Bed Base
Ecosa Wooden Bed Base
Side By Side Comparison of Winkl + Ecosa Bed Bases
Emma Fabric Look Bed Base
Peacelily Adjustable Bed Base
Napp Adjustable Bed Base
Side By Side Comparison Of Peacelily + Napp Adjustable Bases
Let's Start With The Wooden Look Bases: Winkl And Ecosa
The two bases I'm going to go talk you through are both made by companies that are first and foremost memory foam mattress brands. This means their bases are super sturdy and the perfect fit for your memory foam mattress. This is actually a critical point, because if you use a memory foam mattress on the wrong type of base it will feel like it's too soft, or even sagging.
I should know, I use a slat base we bought from Harvey Norman about 10 years ago and we've had to shore it up with ply for it to properly support our mattress, and I'm seriously considering buying one of these new bases instead and relegating our current base to the spare room.
1. Winkl Bed Base – My Top Choice
Winkl make my favourite memory foam mattress in New Zealand. In fact, it's the mattress I've chosen to keep on my own bed because it's truly the most comfortable. It's therefore no surprise that I think Winkl have smashed it out of the park with the great value for money and features you get with their unique bed base.
I recommended this base to a friend recently, and she's absolutely loving it. The low profile design works particularly well with the luxury height of her Winkl Lux mattress. You can't really see the white legs at all once the bed is made up and overall it's a stylish look that functions really well.
Light finish with white steel legs
Headboard sits at an angle for comfortable sitting in bed (great for reading)
Sturdy construction with an oak veneer outer and honeycomb inner: this keeps the base light but strong
Clever modular design: each base is made up of a series of ventilated flat panels that click together. A Single or King Single comes with two panels, while a Double/Queen/King comes with 3. Want to upgrade the size of your bed? Simple: buy an "upgrade kit" to get an extra panel and the correct size headboard!
Tool free assembly
10 Year Warranty
Sizes: Single, King Single, Double, Queen, King, Super King, California King
120 night sleep trial
Price range $1450 – $1650 (if this wasn't good enough value already, Winkl also offer regular discounts. My links will take you to today's best price)
I've looked at a ton of bases around NZ, both online and instore, and this is the only one that offers you a sleep trial. That's a huge deal, because shipping these things around is expensive! This should show you Winkl have a lot of confidence you'll love their base.
The other things that make this bed base a stand-out are the angled head board (great for reading), the long warranty (double that of Ecosa as you'll see below) and the fact that there are no slats. Like I said above, slats that are too far apart can stop your mattress working its best for you, and Winkl have designed the perfect base for you with its flat design with those all-important ventilation holes.
2. Ecosa Bed Base
Ecosa is one of the best known online bed retailers in NZ. This Australian owned company is famed for their memory foam mattress (too firm for me, but great quality) and they've recently expanded their range to include this sleek looking bed base. Here are the specs:
Choose light or dark colour finish (light shown above)
Matching bedside tables available to complete your bedroom set
Hidden shelf behind the headboard (nifty little feature)
Ash wood construction, with metal slats and environmentally friendly Osmo oil finishing
Tool free assembly
5 Year Warranty
Sizes: Single, King Single, Double, Queen, King, Super King, California King
No sleep trial
Price range $1400 – $2000 (Ecosa are usually running some sort of sale, my link will take you to today's best price)
There's quite a lot to like here with the Ecosa base. This is just my opinion, but I like the look of the wooden legs better, and that you get your choice of colour. It's a nice looking piece of furniture that's going to last well. However, the shorter warranty and lack of sleep trial mean that Winkl pip it at the post for my top choice.
tex
Top Choice:
Winkl Bed Base
No Slats – Ventilated Panel Construction
Tool Free Assembly
Free Shipping
Clever Modular Design
10 Year Warranty AND 120 Night Sleep Trial
Prices From $1450
Runner Up:
Ecosa Bed Base
Slat Construction – 2 Colour Options
Tool Free Assembly
Free Shipping
Clever Hidden Shelf
5 Year Warranty, No Trial
Prices From $1400
t
Best Fabric Covered Bed Base: Emma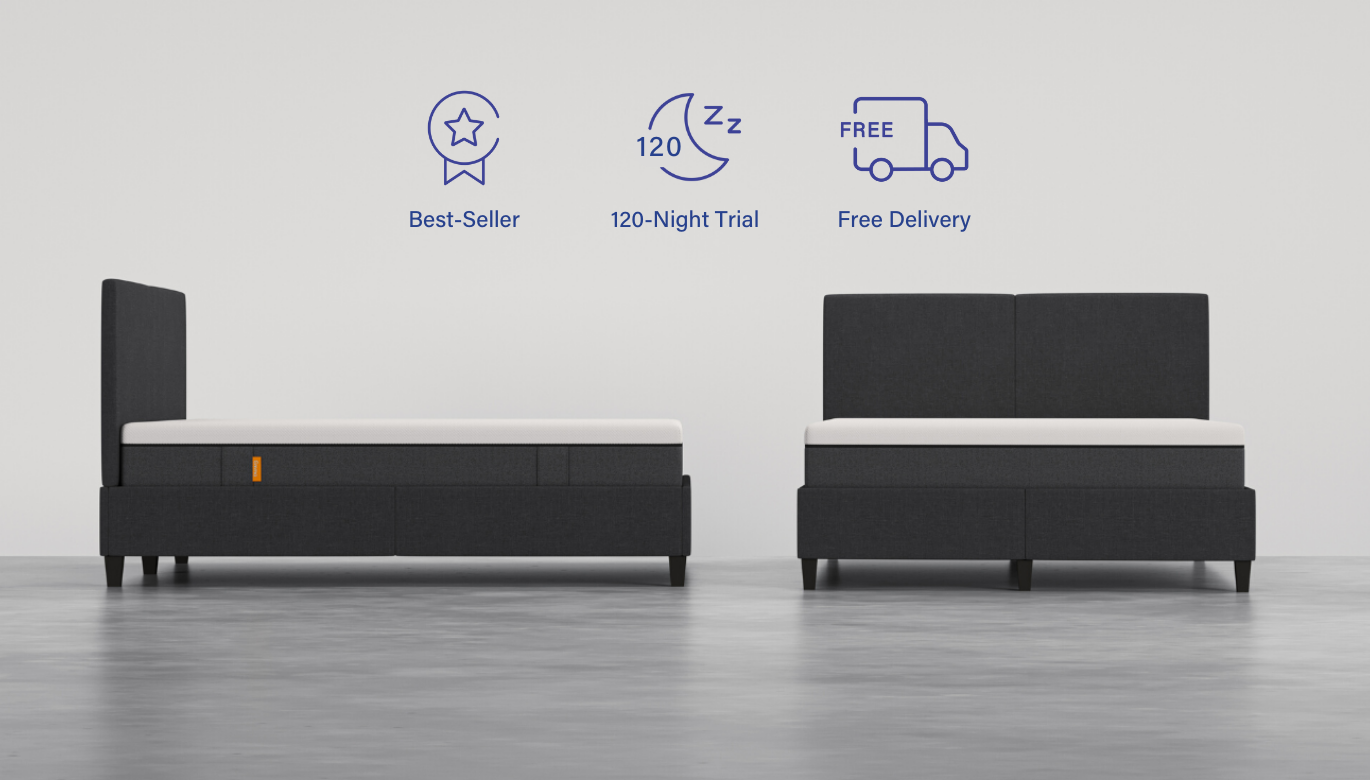 The grey Emma has used for the upholstery is a lovely light grey that should fit in with most decor. It's not too dark and heavy, it's kind of light.
I like how the frame sits pretty low to the ground and that the sides are all fabric. If you're anything like clumsy me, you've spent a lifetime bruising your legs on wooden bed frame corners – this won't be a problem with the soft corners of this bed base.
The slats are quite flex and they feel strong: I think they're going to hold up well. I also like the slats to provide some air circulation should you choose to put an all foam mattress like the Emma Comfort Mattress on top of this bed frame. I'm using the Emma Diamond on this one, which will be even better with its spring base and thick contouring memory foam comfort layer.
120 night sleep trial, which is pretty awesome. It's highly unusual for a bed frame to come with a sleep trial so your purchase is risk free.
Delivery is free, which is great, because bed frames are expensive to ship and other brands may sell you want looks to be a cheap frame then charge you hundreds of dollars in shipping.
The grey fabric Emma uses feels tough and durable, and is Oeko-Tex safety certified.
The feet are plastic, and are quite thick, giving you assurance they'll hold the base up nicely. They've got a broad bottom so should sit nicely on any floor without damaging them.
The bed frame comes with a 5 year guarantee. I'd prefer to see ten years to match their mattress warranties, but this is a common warranty period for frames so there's nothing to be concerned about there.
Sizes available are Single – Super King, so there's something for everyone.
Prices are from around $1000 – $1500 depending on what sale Emma is running at the time. Don't pay RRP, wait for a sale. You can save even more with their awesome bed bundle deals.
Watch me unbox the Emma Bed Frame here:
Adjustable Bed Bases
As I said earlier, more and more people are buying adjustable beds for every day use in their homes. Whether you're someone who likes to watch tv in bed, read, sleep with your legs elevated, or alleviate a range of health issues such as snoring or indigestion, there are a multitude of reasons why an adjustable bed base is a great choice.
Top buying tip: if buying for one person, a king single is the best size. If buying for two people sharing a bed, I recommend a split king so you can each control your own side independently of each other, as shown in the picture below.
1. Peacelily Adjustable Base
This is the adjustable base I use myself, and I LOVE it. It's such a great price, it works smoothly, and being able to sit up in bed and read (or if you're feeling unwell) or raise your feet after a big day of exercise is such a treat.
Peacelily have already established themselves as my firm favourite for latex mattresses, and they've just upped the ante by introducing their high quality adjustable bed base (also made with natural materials where possible) to New Zealand.
Peacelily focus on one adjustable base model and it's pretty hard to argue with the quality for the money:
Natural and organic materials (natural latex padding, organic cotton cover)
Weight tolerance of 350kg per base (this is about as high as you will find)
Articulates at both head and foot for maximum adjustability
Preprogrammed with the following positions: flat, anti-snore, reading, zero gravity, and TV watching. You can add 3 more favourite positions if you need to
King size is a split model: this is made up of 2x long single bases with 2x remotes that can either be used separately or synchronised to work together – this gives a total weight tolerance of 700kg
9 Different massage settings that are highly customisable
LED lighting (turn it on and off with your remote)
Adjustable legs so you can choose your desired height
Pairs well with the Peacelily natural latex mattress if you're looking for a complete bed set – just add their mattresses to your order
Free shipping (yes, this is a really big deal. You can expect to pay hundreds of dollars from other retailers)
2 Year warranty (this doesn't sound like much, but you can pay to upgrade it to 5 years for $250 or 10 years for $350). It grates a bit to pay extra to extend the warranty, but given the exceptional value for money you get when you buy this base, it's still good value
Real people say: this base is great quality and has an excellent motor
With prices from just $1399, Peacelily is amazing value for money, and leaves plenty of room in the budget to buy a mattress should you need it.
2. Napp Adjustable Base
Napp make one of the best memory foam mattresses in the country: it's NZ made and has a cool touch cover and exclusive foams. They're also quickly making a name for themselves with their unbeatable range of four adjustable beds, which are sold with Napp mattresses included in the price.
The adjustable beds that Napp sell are made right here in New Zealand, by A.H. Beard (one of Australasia's best known mattress makers, they make many of the mattresses and bases you see in stores).
The most "basic" model is the Enliven, which starts from $2150 (including a beautiful Napp mattress). The most expensive model is the Uplift, which tops out at $10290 for the split California king size (which comes with two King single mattresses).
When I say the Enliven is the most "basic", it still has a lot of features you won't even find on more expensive models. Here are features that all the Napp adjustable bases have:
Head and foot articulation (so you can raise your head, or your feet, or both if you wish)
Wireless remote with flashlight
Bluetooth connectivity
Under bed lighting
USB ports in all models except Enliven
Adjustable leg heights
Weight limit of at least 340kg per motor (split size models have two motors)
Made in New Zealand (support local)
10 Year guarantee
Free shipping NZ wide
Big size range including split King options. These allow two people to individually control their own side of the bed.
Napp mattresses to suit the base are included in the price
That's a lot of features for your money. As you step up through the models, you'll get other features such as massage functions and extra lumbar support. Click the link below to see the different sizes (with a helpful visual guide), a short video explaining the benefits of adjustable beds, and a side-by-side comparison of the different models.
Napp also have a range of headboards and sheets that will fit perfectly with your set-up, so they're your perfect option for a "one and done" bed setup.
Unsure which model to get? My favourite is the Enrich model, which has the extra lumbar support.
Best Adjustable
Peace Lily Adjustable Base
Articulates At Head And Feet

Adjustable Leg Height To Suit Your Mattress/Preference

Easy To Use Presets

Zero Gravity Position Option

Under Bed Lighting

Massage Features

Covered In Breathable Fabric And Peace Lily's Famous Latex
Best Wooden
Winkl Base
120 Night Sleep Trial

Breathable For Your Memory Foam Mattress

Sleek, Low Profile Minimal Design

Grows With You: Simply Add Another Panel To Switch From Single To Queen/King

Durable, High Quality Materials

Headboard Designed To Make It Easy To Sit In Bed
Best Fabric
Emma Base
120 Night Sleep Trial

Beautiful Grey Tones To Suit Any Colour Scheme

Soft Fabric Build Means No More Bruised Legs If You Get Out Of Bed In The Night

Slats Are Much More Durable Than Those That Come With Cheaper Slat Bases

Take Advantage Of Emma's Awesome Bundle Deals

Available In Full Size Range: Single - Super King
text