Priced From Just $649, It's One Of The Best Value Adjustable Bases On The Market
50 Night Sleep Trial 
3 Year Warranty
3 Zone Massage Features
Pairs Well With Nectar Mattresses, And Any Other Mattress Suitable For Use On Adjustable Bases
High Weight Tolerance: 500lb Per Motor (Includes Your Mattress)
Nectar Adjustable Base Review – this is a base with solid manufacturing, a reasonable sleep trial, and a budget friendly price. Sound good? It is missing a few features that explain why it's cheaper than some of its competitors, so I suggest you read on to find out whether this base is going to have everything you need.
First, what makes a good adjustable base? To me, it allows you to adjust the bed frame with a remote control unit (preferably a wireless one) and comes with different presets. It should have a zero-gravity preset for people with back pain and aching joints. The adjustable base should go flat with the touch of a button and offer a massage function, motors that can tolerate weights above 300 pounds, and for couples, it should offer a split king option. Sleep trials and adjustable leg heights are also nice.
Admittedly, Nectar Adjustable Base doesn't tick all the above boxes. Still, it offers a solid adjustable base worth considering as you'll see from this review. I will cover the following topics in my in-depth analysis of the advantages and drawbacks of the Nectar adjustable bed frame:
Nectar Adjustable Base Overview
Analysis Of The Structure Of The Nectar Adjustable Base
Analysis Of The Performance Of The Nectar Adjustable Base
Nectar Adjustable Base Reviews From Real Customers
Nectar Adjustable Base Review FAQ
Final Thoughts
Nectar Adjustable Base Overview
Price: from $649 for a twin XL
Ships for free across the USA with no-risk returns.
50-night free sleep trial.
3-year limited warranty.
Quick and easy setup.
3 zone massage for maximum comfort and relaxation.
Programmable memory settings to create and save your own presets.
2 USB charging ports on either side of the base.
Wireless remote control.
Zero-gravity position to relieve pain and aching.
Two presets to raise the head and feet.
Plenty of storage space under the bed.
Of course, the first question that comes to mind when you look at all of these features is: what about the mattress? You will need a mattress that works with adjustable bed frames and is resilient enough to handle the uneven surface and elevated zones while providing the expected support and comfort. If you already have a Nectar mattress, then you can go ahead and place it on the adjustable base without any issues, as long as you have the right size of course!
Some recommended Nectar mattresses for this adjustable bed frame are the Nectar mattress, the Nectar Premier, and Nectar Premier Copper.
And from the above overview, two things stick out: the first is the short warranty period. While Purple and Puffy offer a 10-year warranty, Nectar's 3-year warranty puts the durability of the adjustable bed frame in question. However, I am somewhat reassured that Nectar has used reliable and long lived brand Classic Brands to make their base for them. The trial period of Nectar Adjustable Base is only 50 nights which is about half of what Purple and Puffy offer, but at this price point it's great to even have a sleep trial, as many brands don't offer them for adjustable bases.
On the plus side, the Nectar Adjustable Base is quite affordable and sells for less than half the price of the Purple Ascent Adjustable Base. That makes it an ideal choice for people looking for a bargain.
Analysis Of The Structure Of Nectar Adjustable Base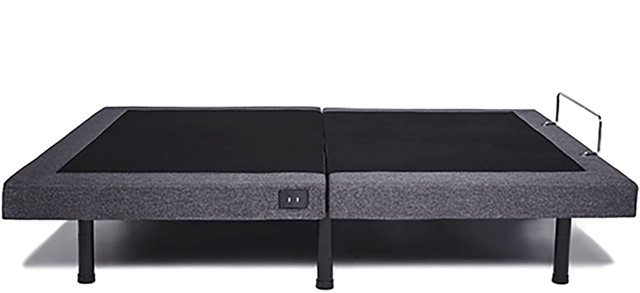 Design and Materials
The Nectar Adjustable Base has a metal frame with two motors built inside it. The first motor is in the top half of the bed and allows you to raise the head of the bed. The second motor is for the bottom half of the bed near the feet. Both motors double as massage motors and will vibrate the bed to give you a thorough and relaxing massage.
I liked the metal bar at the foot of the adjustable base which helps hold the mattress in place and prevents it from sliding when I change the position and elevation of either the head or foot of the bed frame. The coarse fabric covering the base also does a good job of keeping the mattress on the frame.
The Nectar Adjustable Base is actually manufactured by Classic Brands, a well established bedding manufacturer that makes arguably the most popular adjustable base on Amazon.
Remote Control
The wireless remote control unit that comes with the adjustable base allows you to control both motors. It also gives you access to the different settings and presets, activates the massage function, and raises the head or foot of the base or brings it down to a flat position. You can also reprogram the presets or create new settings and save them.
Settings and Presets
One of the things that impressed me about the Nectar Adjustable Base was the number of presets and settings. For such an affordable adjustable base, the Nectar offers many presets and settings that one wouldn't find in an even more expensive adjustable base. It offers a massage function that the pricier Purple Ascent Adjustable Base doesn't have. Here's a list of the important settings that you will be using often:
Easy Setup: Touted as the fastest and easiest adjustable base to put together, the Nectar lives up to that claim. Verified users generally report the whole process took between 20 to 30 minutes.
Massage: Both built-in motors are equipped with this functionality and have 3 massage zones that give a rejuvenating and relaxing massage for the whole body. One small note from personal experience using massage bases: go for a mattress thats 12 inches thick maximum, so you can actually feel the massage through your mattress!
Zero Gravity: Based on findings and research from NASA, this feature puts the body in the most relaxing position. It relieves pain and aching while improving blood circulation and easing you into a deep sleep quickly.
Split-King: Although the Nectar doesn't come in a king-size option, it offers the split king option for couples. This allows you to adjust both sides of the bed independently. Your partner can have their own settings and presets, while you enjoy your preferred sleep settings using the same remote control unit.
USB Outlets: The adjustable bed frame has two USB outlets on either side. You can use this outlet to recharge your devices and stay comfortably in bed while reading, browsing, or working for long hours.
Analysis Of The Performance Of The Nectar Adjustable Base
Zero Gravity
Zero Gravity is actually a super comfortable position to lie in, and if you suffer from any aches in your legs you may well find you seek this feature out a lot. It's great to see this budget friendly base including Zero Gravity as a preset, so you can easily relax with one touch of a button.
Noise
The buzzing sound the motors made when adjusting the base or when turning the massage feature is reported to be quite low. You'll find it's more of a purr or a hum. I don't think you really need to worry too much about the noise, as I can tell you from the adjustable base I have in my own house that it only makes noise for the very short time during which you're adjusting it, and then it's a very quiet base to actually use.
Of course, you'll get some vibrating noises if you use the massage function, I'd say it's similar to a massage chair kind of sound if you've ever used one of those.
Storage
Rising 10 inches above the floor, there's plenty of storage space here. Shoe boxes and all the other junk that can be hard to find space for automagically disappears under the bed leaving the bedroom looking larger and clutter-free.
Anti-Snore
This is a common feature of all adjustable bases. The anti-snore preset raises the head of the bed slightly which helps keep the mouth closed and prevents the air passages from getting shut. Like Zero Gravity, it's easy to activate this preset using the remote control.
Massage
The massage feature is something really notable in this base, given it's price point. The two motors target three zones in the mattress and give the body an immersive and relaxing massage. Each session lasts for 15 minutes, so don't worry if you fall asleep during your massage, it will turn off by itself!
Nectar Adjustable Base Reviews From Real Customers
Real customers weren't shy either when lavishing praise or criticism. That's the kind of feedback I like. The customer service on the Nectar website did their best to respond to both types of comments. Here's what I came up with after reading through the comments and reviews.
Overall, the adjustable base scored 4.7 out of 5 stars from 1746 users at the time of this writing.
About 95 percent of users gave the adjustable base either 5 or 4 stars with the majority rating it 5 stars.
The top feature that got the most mention and praise was the massage feature. That confirmed my conclusion that the Nectar delivers an excellent massage experience.
People also enjoyed the sitting preset that allowed them to spend hours in bed comfortably reading, watching TV, and browsing social media without getting tired.
Users who used the Nectar mattress with the adjustable bed frame reported a satisfying experience all around. Those who had used a different mattress brand were not as impressed with the sleeping experience as a whole.
There were negative reviews as usual and for the most part, they had to do with malfunctioning motors or remote control units. Getting a replacement for the broken parts wasn't easy as was obvious from the comments the users left on the Nectar website.
"Our whole sleep experience has changed since we got the Nectar bed frame and adjustable frame. We are so comfortable whether we are reading, watching TV, working in bed, or sleeping. My husband always used to snore and he doesn't anymore. We both rest better than ever and our bedroom is an oasis of comfort."
Nectar Adjustable Base Review – FAQ
Can Nectar Mattress Be Used With An Adjustable Frame?
Yes, it can. Nectar brand mattresses pair perfectly with either the Nectar brand adjustable base, or any other base you wish to use, such as my top recommendations here.
Who Manufactures The Nectar Adjustable Base?
Classic Brands makes Nectar's adjustable base on their behalf. Classic Brands has been innovating in the bed market since 1971, and have remained a hugely popular manufacturer with massive online and store sales. Any product made by Classic Brands is going to be good quality, so Nectar have chosen wisely here.
How Much Weight Can The Nectar Adjustable Base Hold?
The Nectar Adjustable Base has a total weight capacity of 1000 pounds (this would be for a split king, so I'm going to say 500 pounds per motor). Remember that this weight is inclusive of your mattress weight.
Can I Try The Nectar Adjustable Base Before I Buy It?
The short answer is no, but the good news is that with free shiping, free returns, and a 50 night in home sleep trial, you can test the Nectar Adjustable Base in the comfort and privacy of your own home, for more than a month, totally risk free.
Nectar Adjustable Base Verdict