Best Pocket Spring Mattress Australia – pocket spring mattresses are perfect for Australians. As well as offering great support (and springs that don't squeak) they're perfect for the hot climate because air can circulate through the springs to keep you cool and your mattress healthy.
Mattresses are big business these days, with a ton of companies competing for your sleep dollar. It's confusing trying to sort through which is best for you. I've been testing and reviewing beds for more than 4 years now, and I'm happy to recommend the Emma Diamond as the best pocket spring mattress in Australia because I've slept on it myself (and now happily keep it in my house).
In this Best Pocket Spring Mattress Australia article I'll explain why the Emma Diamond is the top pick of the bunch, and also run you through the other options to save you time hunting around the internet doing research. It's all here for you.
Here's Why The Emma Diamond Is The Best
Emma Diamond Mattress
Two Foam Comfort Layers

Pocket Spring Support System Protected By Durable Foam

Foam Feels Amazing, Like Tempur

100 Night Sleep Trial + 10 Year Warranty
I own this mattress myself and am happy to verify this mattress feels really comfortable to lie on. The combination of contouring memory foam and pocket coils is an absolute winner and you'll struggle to find better value for money than the Emma Diamond
Pros
Generous Foam Layers

Extra Features Like Zoned Foams And Handles In Cover

Get Big Discounts With Emma's Legendary Sales
Cons
Medium Firm Feel May Not Suit Those Looking For A Soft Mattress

Not Made In Australia
You know how Tempur is the most expensive and famous memory foam mattress brand in the world? Well, my first impression when I unboxed the Emma Diamond mattress was "wow this foam feels like Tempur".
Emma has hit the sweet spot of ultra supportive and contouring memory foam paired with pocket coils to ensure air circulates around the mattress and provides great support.
Here's a short list of other features that help the Emma Diamond to the title of best pocket mattress Australia and one of the best beds overall:
Cooling cover that is removable for easy washing (it feels really durable too)
There are two foam layers in the top of the mattress, which is really generous. The top layer is cooling, the second is zoned for targeted support
The pocket coils sit on a bed of firm foam. You won't feel this, but it's definitely a quality indicator: it shows you that Emma cares about protecting the springs and therefore the durability of your mattress. Trust me, you can find a lot more pricey mattresses out there that don't feature this small but important layer.
The cover has handles sewn into it. This is super handy if you want to move your mattress or rotate it (as you should about every 6 months – don't flip it though). Honestly I'm surprised more brands don't do this. In fact, I've only seen it on Tempur mattresses in both Australia and New Zealand.
Emma often run REALLY big sales (my links always get you the best price) so it's unbeatable value for money
Here's a short video of what I think of the foams in the Emma Diamond mattress: if you don't want to watch, I basically say the mattress feels a bit softer when you unbox it, then firms up a bit to a nice medium-firm feel.
Five More Great Pocket Spring Mattresses In Australia
Emma isn't the only option. Here are 5 others that are great, they're just pipped at the post by the amazing feel of the Emma foams and Emma's value for money.
Here's a quick overview:
Image
Product
Features
Price

Runner Up

Dusk & Dawn Premiere Mk2

NOT A Mattress In A Box

Made In Australia

4 Generous Foam Layers

Zoned Pocket Coils

100 Night Sleep Trial + 10 Year Warranty

 

Get Best Price

Microcoil Tech

Origin Hybrid Pro Mattress

8 Layers Total

Microcoil Support Layer

7 Zoned Support Coils

Extra Edge Support

120 Night Sleep Trial + 15 Year Warranty

Get Best Price

Balanced Comfort

Onebed X 12" Mattress

Softer Through The Top, Firmer At The Support Layers

3 Foam Comfort Layers

Pocket Coils Encased In Foam For Edge Support + Durability

5 Zone Pocket Coil Support

125 Night Sleep Trial + 15 Year Warranty

Get Best Price

Customisable

Macoda Mattress

Cooling Bamboo Top

Change The Layers Around To Adjust the Firmness

4 Generous Foam Layers

Has Latex AND Memory Foam

100 Night Sleep Trial + 10 Year Warranty

 

Get Best Price

Latex + Microcoils

Ecosa Pure Mattress

Comfort Layers Feature Latex AND Microcoils

Adjust The Firmness

Pocket Coils Encased In Felt And Latex For Durability

5 Zone Pocket Coil Support

100 Night Sleep Trial + 15 Year Warranty

Get Best Price
Dusk & Dawn Premiere Mk2 Mattress
Tech Details:
Zoned pocket coil support
Protective foam encasing of the support coils
Four comfort layers, including gel infused foam, contouring foam, and high density foam
Australian wool under the cover
Available in 3 firmness levels: plush, comfy medium, firm
Why It's My #2 Recommendation:
Dusk & Dawn have a couple of things that make them really stand out. First, they're Australian made. Second, this is not a mattress in a box. Yes it's an online mattress (with all the benefits like lower price, sleep trial, etc), but it comes delivered at its full size, not compressed in a box.
I think this mattress offers exceptional value for money with the encased and zoned pocket coils, generous foam layers, and your choice of comfort level. Well done Dusk & Dawn!
What It Feels Like:
This is going to depend on which firmness level you choose. I suggest the "comfy medium" is going to hit the right balance between softness and support for most people. That's pretty much everyone EXCEPT:
if you sleep exclusively on your stomach, go for the firm to ensure your hips don't dip
if you are very petite go for the plush to ensure you get some contouring support
They way Dusk & Dawn have layerd the foams and used zoned coils means that when you lie on the mattress, you'll first feel yourself sinking a little into the softest comfort layer. As your body weight goes through the mattress, the other layers will work to stop you sinking deep, while offering support. The zoned core means you should feel like your spine is supported no matter which position, and the edge support means you won't feel like you're going to roll off the bed.
TLDR: it feels great!
What Real Users Have To Say About It:
"This mattress feels like it's made from quality materials and has great workmanship".

"Absolutely love my premier mattress, it was worth the price!"
"Dusk & Dawn mattresses are extraordinarily comfortable: they have a real luxury hotel feel."
"I'd say the comfy medium is a little on the softer side of medium, but that's just because of the padded top layers. It has plenty of support."
Origin Hybrid Pro Mattress
Tech Details:
1. Pillowtop with tencel cover: this gives a plush feel through the top, while tencel is one of my favorite fibres for feeling cool and silky (you'll have sheets on though so the "silky" part isn't so important really)
2. "Graphite crystal latex" – the first comfort layer is latex infused with graphite. This seems kinda wierd to me as natural latex is naturally cooling, adding graphite here helps with a man-made latex though.
3. "Hexagrid comfort layer" – this is a clever foam layer, with a grid pattern cut into it to help create a layer of zoning in the comfort layers. I think this is nice.
4. Natural wool – a nice natural transition layer that's breathable before you hit the microcoils in layer 5
5. Microcoils! Microcoils are like tiny mini pocket coils, and they're part of the comfort layer, not the support. I used to have a mattress with microcoils and boy was it comfortable. I think microcoils are an awesome feature for a mattress, but I wonder if there's a bit of overkill with all the foam going on in the layers above it too.
6. Cooling memory foam: this foam acts as the final comfort layer, before you transition to the support core. It's nice that it's a memory foam rather than a high density foam because it's sandwiched between the two coil layers and will therefore allow them to move as required to provide you targeted support.
7. Zoned pocket coils: You've got 7 zones rather than 5 or none like you'll find in other pocket coil mattresses, so you're getting the ultimate in targeted support here. Great feature in my opinion.
8. Strong edge support
Why I Like It:
This bed has SO MUCH going on! Which is why I like it, and also why i couldn't rate it higher at the same time. Confused? Well on one hand, all the layers are cool and contribute to this being a comfortable mattress.
On the other hand, does a bed really need this much going on? I personally think it's a bit overwhelming and hard to understand exactly how the mattress is performing. It's a great mattress, it's just not my favourite because I can't really get a feel for what's going on.
What It Feels Like:
The origin mattress has a medium firm feel, which is known to be the most universally comfortable mattress firmness and works well for most people. Do note that many users report this mattress is on the firmer end of that, so I think it's better for people looking for a firm mattress or those who want to add a topper.
You won't sink very far into the mattress when you lie on it because of that top layer being latex which isn't known for contouring. This means it's easy to change positions on the mattress.
You'll still get great support for your shoulders and hips if you lie on your side because the zoned foam layer and microcoils will offer enough "give" for pressure relief.
What Real Users Have To Say About It:
"Great back support for a great price."
"Origin kept coming up as one of the better mattresses for the price, and we're glad we chose it."
"Won't be needing the 120 night sleep trial, I'm keeping it!"
"What stood out to me was how it was firm but comfortable at the same time."
Onebed X 12″ Mattress
Tech Details:
Viscose cover with a dimpled texture, Onebed reports you can feel this a little through your sheets.
"Davina foam" – a man-made foam designed for cooling and a bit of bounce
Gel infused memory foam for further cooling and pressure support
Charcoal memory foam – a nice choice as the transition from comfort layers to the spring base: this foam is antimicrobial and helps manage odour
5 zoned pocket coil support system
High density base foam: this protects the coils and has cooling channels cut into it to ensure you get the full benefit of air flow through the core of your mattress. I think this is a really thoughtful and good quality touch.
Why I Like It:
This is a straight forward mattress that just performs. At the top you've got the softest comfort layer as you'd expect, then foams that gradually get firmer underneath.
Underpinning the whole thing is a 5 zone pocket coil support unit protected by foam with clever zoning channels cut into it.
Basically, this is a great value mattress that offers cool features without being over the top about it. Classy.
What It Feels Like:
This mattress does a good job of motion isolation and cooling, two key elements of a good mattress.
The top layer is the softest, allowing you to feel that cushioning feel and pressure relief when you first hit the mattress, then the firmer layers hold you up and keep that spine in line.
Like many pocket coil mattresses in Australia, Onebed have gone for the perfect Goldilocks medium-firm feel to suit most people. From the consensus of real users, I think they've got it right.
What Real Users Have To Say About It:
"Very comfortable and supportive, the edges don't sag like foam mattresses."
"This mattress contours to where I need it. It has the right amount of softness for my hip and shoulder when I'm on my side, and good firmness for when I lie on my back."
"We bought one to put in our Air BnB and were so impressed with it we had to get one for our home."
Macoda Mattress
Tech Details:
Cover: The cover has two components. The top is bamboo, which will feel really soft and breathable. The bottom half of the cover (the blue bit) is a polyester knit. By all accounts, the cover is a really nice quality that feels nice to touch.
3 Cm of latex: Latex is considered the most durable and thermoregulating mattress material, so it's great to see a generous 3 cm of it here. Latex is a very fast responding foam: it offers pressure relief with no sinkage and has a bit of bounce to it. Have this layer at the top for a medium feel with springy resilience. The memory foam below it will provide beautiful cushioning support.
5 Cm of gel infused memory foam:  This is the other comfort layer of the mattress. The gel infusion helps draw body heat away, and the memory foam offers deeper contouring for further pressure relief. If you want a softer feeling mattress, you flip this layer to the top for a spongier feel while the latex works below it to stop you sinking too far.
18 Cm of individually wrapped pocket coils arranged in 5 zones: This is the main support core of the mattress. Individually wrapped coils offer good motion isolation, are quiet, and offer targeted support. The coils inside Macoda have been zoned for even more laser targeted support as you sleep. See the image below of what the zones look like
3 Cm of high density support foam: This is the landing pad for the coils, and is there to support them and provide extra durability.
Why I Like It:
I like the Macoda hybrid mattress because it's got a two features that set it apart from the others in this best pocket coil mattress Australia round up. Those are:
Latex comfort layer (most others in this review have memory foam only, Macoda has memory foam and latex)
The comfort layers are adjustable! This means you can flip them around to change the firmness feel of the mattress, which is great if you're unsure what firmness you'd like to buy.
What It Feels Like:
This mattress is generous on the materials, so the first thing you'll notice is the height: it's going to be a bit taller than other mattresses so keep this in mind.
The combination of latex and memory foam work really well together to give you comfort layers that have a bit of bounce, a bit of contouring, and lots of durability. It's a total win.
The zoned support coils are going to help your back stay straight and help minimize any roll together if you share your Macoda bed with a partner.
What Real Users Have To Say About It:
"This mattress is not too firm or too soft. Great for back and side sleepers, and you don't feel like you're going to roll into the middle."
"The mattress is well designed and seems to be quality materials. The flippable design is very convenient and results in a plush, comfy feel which is also supportive thanks to the pocket spring base layer."

"I decided to try the Macoda hybrid after a not so great experience with an all foam mattress in a box. I put it on the soft setting and I'm sleeping great."

"Some of my friends own other brands of mattresses in boxes. I'd tried them out but didn't like them. I read about Macoda and decided to give it a shot: I had nothing to lose with the 100 night trial anyway. It's an amazing mattress for the price and I'm now getting nights of undisturbed sleep."
Ecosa Pure Mattress
Tech Details:
Cover made from recycled bottles – a really nice touch from Ecosa.
Dunlop latex – a medium firm feel with some bounce.
Microcoils! Like I said with Origin, I really like microcoils. I think it's great that Ecosa only have them under one foam layer here: you're going to feel the benefit of them more in this mattress I think.
Talalay latex – another latex layer to act as a transition layer. I really like that all the foam in this mattress is latex – it's a great cooling and durable material for mattresses and is perfect for Australia.
7 zone pocket springs – again this is more than the usual 5, and again we're seeing it in a microcoil mattress. Perhaps the two go really well together and I need to figure out more about why that is. Anyway, you can guarantee this bed will offer you extremely precise support.
Felt above and below the pocket springs as a buffer.
Firm latex foam as a bed for the pocket springs. You won't feel this layer but it helps protect the pocket springs, increasing the durability of your bed. It's a bit of a shame there are no reinforced springs or foam encasing the edging – this is going to let the edge support down a bit here.
Why I Like It:
This mattress is a big step-up from the original Ecosa mattress, which is all foam and very firm (in my opinion and everyone I've talked to). This mattress has it all: latex, microcoils, AND memory foam! And it's adjustable!
That's a lot to like, but again like Onebed, it's a lot to get your head around. It's going to be a wonderfully supportive and durable mattress, but it's a bit pricier than some of the others in this article (which are equally great quality). I'd have liked to see better edge support for this price.
What It Feels Like:
The latex means you're going to get more pressure relief than contouring from this mattress, and it's going to feel really nice to lie on. This is Ecosa's most breathable mattress, and it's easy to see why with the latex and coils in carefully designed layers.
This mattress has an adjustable firmness, so you can choose between medium or medium firm, just by switching some layers around. Clever! I have not personally tried this mattress, but I know that all the adjustments you can make in the original Ecosa mattress still feel pretty firm. Luckily, people using this mattress report there is a noticeable difference between the two options for the Ecosa Pure mattress.
What Real Users Have To Say About It:
"Half the price of my old mattress but ten times better. It's really comfortable and cooling."
"Very easy to swap between medium and medium-firm."
"It took a couple of nights to get used to the feel of the foams (previous mattress was more cushiony) but I was happy with it and feel well supported. However, it just wasn't soft enough for my husband who's used to a plush mattress."
"This mattress is really comfy, it's just a shame it doesn't have better edge support."
Best Pocket Spring Mattress Australia FAQ
Are Pocket Spring Mattresses Best?
I'm going to assume we're comparing to all foam mattresses here.
Pocket spring mattresses are better for breathability (air can flow around the coils rather than getting trapped in support foam) and edge support. If those are important factors for you then yes, they're best.
Which Is Better, Spring Or Pocket Spring?
A traditional spring unit is continuous, which means the springs rub against each other (hello, squeaky bed) and create roll together.
So 100% absolutely definitely pocket spring is better to avoid these issues. In fact, you'll find it hard to find a modern mattress that still has a spring unit instead of pocket springs.
Which Is Better To Have, Memory Foam Or Pocket Springs?
Why not the best of both worlds? Most of the mattresses in this article contain memory foam in the comfort layer and pocket springs in the support core. They're a match made in comfy sleep heaven.
You might be thinking of a memory foam mattress as an all-foam mattress. You can get memory foam mattresses that have a high density foam support core instead of springs, but the core is not memory foam.
Is It Better To Have More Or Less Pocket Springs In A Mattress?
More. Pocket springs move separately from each other to give targeted support. The more pocket springs a mattress has, the more targeted support you'll get.
This does top out though, so I'd say as long as the mattress you're looking at has 700-1000 springs, you're good.
Emma Diamond Mattress
Top Choice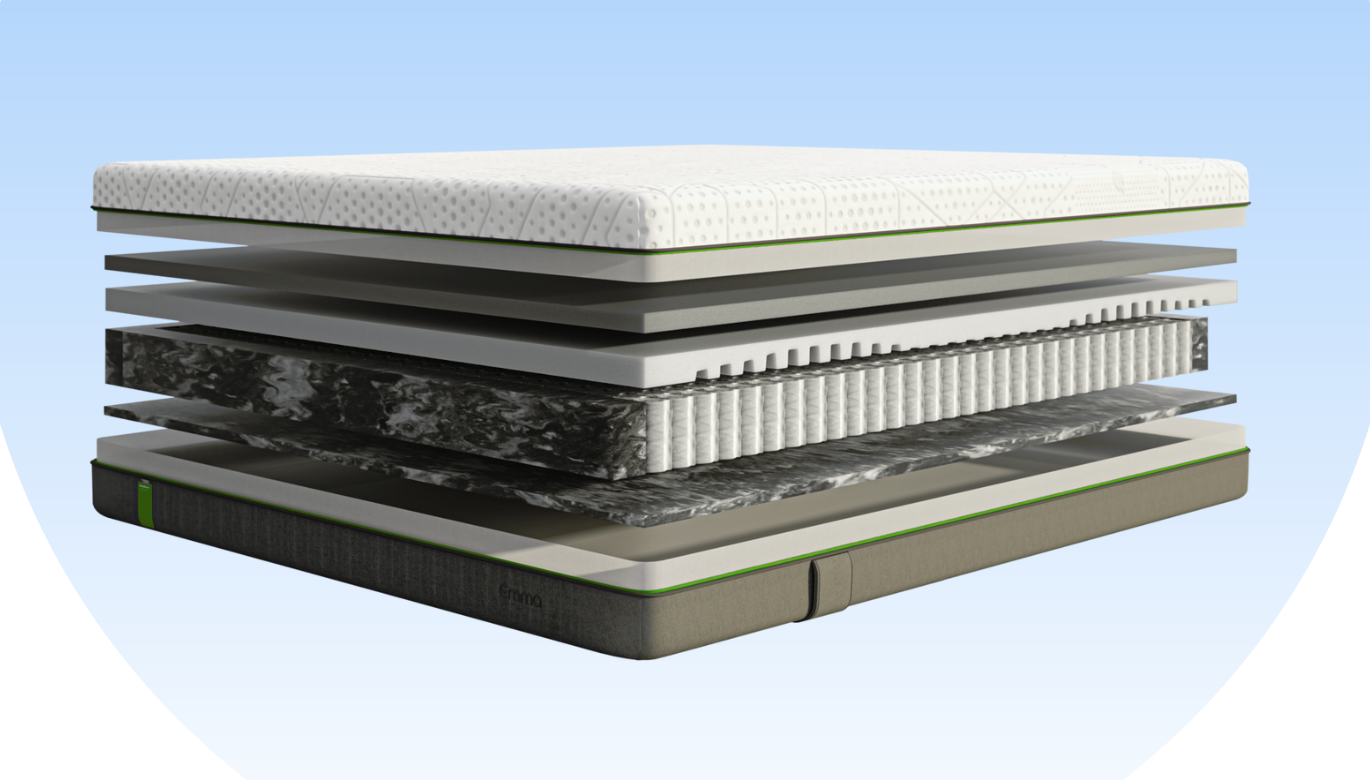 Breathable Removable Cover With Handles

Contouring Memory Foam  That Feels Like Tempur

Coil Base Protected By High Density foam

Medium Firm Feel

120 Night Sleep Trial And 10 Year Warranty