Helix Dawn Mattress
Firm Support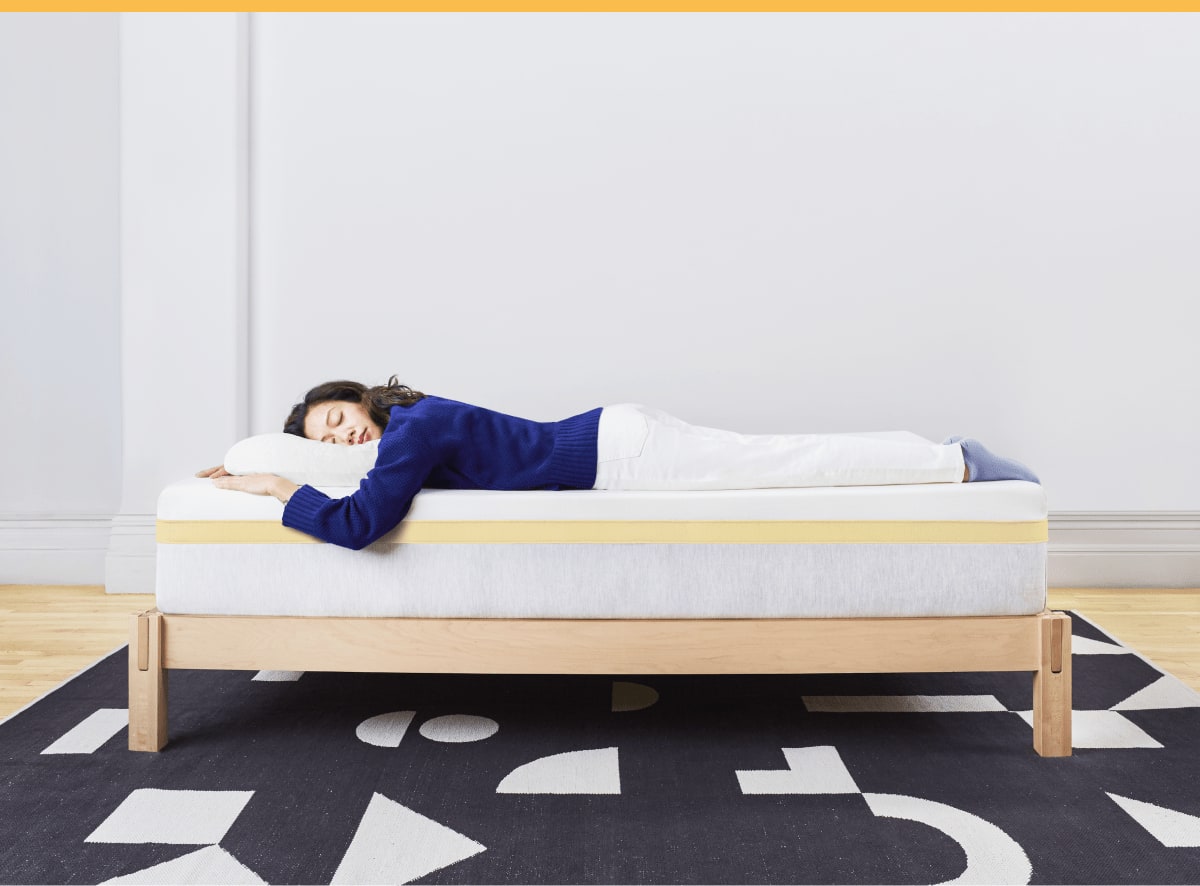 Designed For Back & Stomach Sleepers

Firm Build 

Quality Materials: Cooling Cover And Helix's Own Foams

Pocket Coil Support For Breathability, Stability, And Superior Edge Support

100 Night Sleep Trial
Helix Dawn Review – if you're a back or stomach sleeper, take notice. This is a mattress that's been made specifically with you in mind. It's one of the firmest in the Helix range and has cooling features, so it's going to work perfectly for you.
There's more to the Helix Dawn than just a firm exterior and a cooling cover. For a custom-built mattress, one should have high expectations about the sleep experience and the quality of its performance. In this Helix Dawn Review I'll take you through:
Helix Dawn Mattress Overview
From $936.30 before discounts, but my links will always get you a discount.
Ships for free across the USA with contactless delivery.
100-night free sleep trial.
10-year warranty.
Hand-assembled and custom-built entirely in the USA.
The Helix Soft Touch Design cover is made from a soft fabric that feels natural against the skin. It has high breathability and increases the airflow of the top comfort layers to eliminate heat buildup and sweating.
The 12-inch high mattress has the following comfort layers:

Helix Dynamic Foam: A latex-foam hybrid layer with exceptional firmness and contouring qualities. The bounciness of the latex keeps your body well supported whether you're of average or above-average weight.
High-Grade Polyfoam: This high-grade polyfoam transition layer insulates the dynamic foam layer at the top from the coils below. It also provides good quality pressure relief to sleepers with back or joint pain and aching.
Before I move on to analyzing the construction of the Helix Dawn in detail, I want to pause here to discuss its suitability for different sleeper types and body types. As I said the mattress is designed for back and stomach sleepers in mind. Its extra firm and highly supportive structure and 7.5 firmness score make it ideal for people who expect a lot of support under them. 
Stomach sleepers would also appreciate the responsiveness and structure they get from the mattress. It keeps their spine aligned and most importantly, helps keep their lower back supported to prevent the detested mid-section sag that makes stomach sleepers wake up with back pain in the morning. I also got great feedback from sleepers weighing 230 pounds and more. They found the mattress quite supportive no matter what sleeping position they tried.
Analysis Of The Materials Inside The Helix Dawn Mattress
Cover
The cover of the Helix Dawn plays an integral part in providing some extra comfort to an otherwise extra firm mattress. Since the comfort layer is geared more toward offering support than comfort, it's up to the Helix Soft Touch Design cover to soften the mattress's firm image and give your body a welcoming reception. 
The Soft Touch Design is a proprietary fabric that is especially soft with an extra focus on breathability. It feels natural against the skin while it channels the heat coming off your body through the latex-foam hybrid layer below. This promotes a cool surface that eliminates sweating at night. People who like to sleep hot will enjoy this cool cover.  You'll find this cover across other mattresses in the Helix range, too.
Comfort Layer
The comfort layer is made of Helix Dynamic Foam. This is also proprietary material designed and manufactured in the company's headquarters in New York. This is a hybrid material that combines the best features of latex and foam. Latex provides cooling and bounciness along with robust structure while the foam offers contouring and comfort qualities. Together they create a unique material that keeps your body balanced on top of the mattress without sinking into its surface.
Under this hybrid layer, there's another layer made of high-grade polyfoam. It further adds more comfort to the top layer and support to your body. It also offers pressure relief to the shoulders and hip joints.  
Support/Base Layer
The support layer in the Helix Dawn is made of pocketed coils. The coils are responsible for the firm feel of the mattress and the excellent support it provides. You get reinforced coils around the edges for superior edge support (upgrade to the Dawn Luxe for zoned support through the core)
The base layer at the bottom of the mattress gives the mattress its overall structure and adds longevity. It's made of DuraDense foam which keeps the mattress in good shape after many years of use. Putting a layer of foam under the coils is, to me, an indicator of quality and care for durability of a mattress, so I'm really happy to see Helix using it here.
Helix Dawn Reviews From Real Customers
As usual, I turned to comments and feedback from real customers to see what their experience with the Helix Dawn mattress was like. I put a lot of weight on the reviews from real customers especially when the reviews are in the hundreds and it's easy to find the negative reviews. 
After perusing the more than one thousand Helix Dawn reviews, here's what I came up with.
The overall score of the mattress was 4.5 stars out of 5 from 1034 users as of this writing.
About 90 percent of the comments were positive and rated the mattress either 4 or 5 stars. Interestingly enough, the 5 stars were more than 6 times the 4 stars.
The firmness of the mattress got the lion's share of the praise and coverage. Most users were quite happy with the support the mattress gave them. People with back pain and aching joints were more than happy with the quality of pain-free sleep they had with the mattress.
Taking the quiz on the Helix website also seemed to help many users find the mattress they needed. This might explain the few negative reviews of people being disappointed with the firmness of the mattress of the amount of support they got.
Stomach sleepers also chimed in with praise. The firm Dawn eliminated the back pain that many stomach sleepers wake up to. 
There were also some negative reviews and customers who were not happy with the mattress. Most of the grievances had to do with the mattress either not being firm enough for them, or it's too firm and heavy. Here's a summary of the negative reviews.

One user thought the Dawn wasn't as firm as the old models.
Another user who gave the mattress 3 stars complained that it was too firm and heavy for their comfort.
Some users thought the mattress was too pricey.
 "I've had my Helix Dawn for a month now and it's been great! I have back problems and need a firm mattress. I was nervous that the Helix Dawn wouldn't be firm enough for me but after just a few days, it really firmed up and felt good. I trusted the quiz and I'm glad I did. I just moved into a new place and I've been sleeping peacefully through every night."
Helix Dawn Vs Dawn Luxe And Dawn Elite
Did you know that for each of their mattresses (Sunset, Moonlight, Midnight, Dusk, Twilight, Dawn), you can choose from either a basic mattress option or get a range of upgrades?
Yep, each Helix mattress comes in a Core build, which I've described above, a Luxe build, which has more features, and an Elite build, which has more features again. Here's how they're different to each other:
Helix Mattress Prices
Here's the price breakdown of the different Helix models. The most basic "core" collection mattresses are the cheapest, and as you add in features or layers, the price goes up. In my personal opinion, the Helix luxe collection is the best value, so when we're talking about the Dawn mattress my top pick would be the Dawn Luxe mattress.
Helix Core Collection
Queen Price:
$1373
Before Discount
Helix Luxe Collection
Queen Price:
$2373
Before Discount
Helix Elite Collection
Queen Price:
$3436
Before Discount
Differences Between Helix Core, Luxe, And Elite
Apart from the price difference which you can see above, here's a breakdown of how the three mattress options differ. This will help you understand the upgrades and layers that change with each model.
Helix Dawn Mattress FAQ
Are Helix Mattresses Healthy?
Yes, they're a very healthy mattress option. Why – because they combine memory foam comfort layers with a pocket coil base, which allows for optimal airflow around the mattress to keep it fresh, and great support for your body.
Is Helix Good For Stomach Sleepers?
The Helix Dawn mattress is my top recommendation for stomach sleepers. It has been designed specifically for your needs, with a firm yet responsive memory foam to support your hips and back. Some other Helix mattress models may be too soft for you, but the Helix Dawn mattress is perfect.
Is Helix A Good Brand?
Yes. Unlike other mattress brands who may offer a "one size fits all" mattress, Helix has really thought about what people need and come up with six different mattresses for different requirements. They're all built with quality materials and have a great reputation. I'm more than happy to recommend Helix as a good brand you can trust and sleep comfortably on.
How Much Does A Helix Dawn Mattress Weigh?
These are the weights for Helix Core Collection mattresses.
Twin: 58 lbs
Twin XL: 61 lbs
Full: 77 lbs
Queen: 95 lbs
King: 110 lbs
CA King: 115 lbs
Helix Dawn Review Verdict
Helix Dawn Mattress
Pros
Firmness Great For Back And Stomach Sleepers
Cooling Foam Through The Support Layer
Premium Cooling Cover
Cons
Too Firm For Light People Or Side Sleepers
You Must Upgrade To The Dawn Luxe Mattress For Zoned Support Coils